Drink Service That Doesn't Miss A Beat
POS system that maximizes music venue service efficiency so guests can get back to their seats and enjoy the show.
POS Built for Music Venues
Mobile POS Software
Reduce the time guests spend in line at your music venue with smart point of sale technology that accepts a variety of payment methods.
Real-Time Inventory Tracking
Ounce-level beverage tracking with POS devices that sync in real-time with a web-based sales dashboard.
Upsell With Smart Menus
Easily promote special items with timed menus that automatically update based on your preferred software settings.
Customer Seal of Approval
Grand Opening was insane…in the best way possible! Thank you so much to you and the entire team for being so supportive – we absolutely LOVE the partnership we have with you all. Give everyone on the team a high-five from us all!!
Daniel KauseCo-Owner, Dueling Ducks Brewing
Optimize Intermission Sales
A cloud-based POS makes the most of the intermission rush by syncing all tabs across all devices, shortening lines, and enhancing the guest experience.
• Swipe cards once and keep tabs open at every terminal, so guests can grab the next round fast
• Use QR codes to empower guests to order at their seats and pickup at the bar
• Inventory and sales update instantly in an online sales dashboard
• Adjust service models as necessary with flexible, mobile hardware options
Easy-To-Use POS System
Quickly onboard and train staff with an intuitive interface and customizable settings unique to your music venue.
• Manage different areas of your space with timed and venue-specific menus
• Email event-goers with straightforward marketing tools
• Dynamic tab functionalities make complicated orders a breeze
• Integrated inventory tracking ensures accurate reporting
Products Tailored for Your Music Venue
Smart point of sale software that flexes with you between intermissions and showtime, so you can eliminate lines and guests can get back to their seats.
Mobile POS System
Fulfill orders fast by mobilizing staff to take orders anywhere, increasing efficiency and eliminating lines.
Reporting
Identify the events, menu items, and staff that perform best for your music venue's bottom line with a comprehensive sales dashboard full of helpful, pre-built reports.
Loyalty
Grow your community with a fully integrated loyalty program that makes it easy to email members, track points, and customize rewards.
Mobile App
The Arryved POS mobile app is free and puts ordering power right in guests' hands, increasing tip size and guest satisfaction.
Online Ordering
Have the freedom to test new revenue streams with an easy-to-setup online storefront that integrates inventory with your POS system.
Contactless Ordering
Beat the intermission rush by empowering guests to scan a QR code, order ahead from their own phone, and pick up drinks at the bar.
SOME COMPANIES HAVE AN FAQ.
WE HAVE A JONATHAN.
…and a Kalin and an Adam and tens of other helpful support specialists. Hospitality is fast-paced, and when you need help, you need a human on the other line ASAP. Our daily initiatives are to solve your pain points and help your team maximize efficiency.
MORE ABOUT 7 DAYS/WEEK SUPPORT
We chose arryved
Since our July 2016 launch with Arryved we have gained immeasurable progress in service efficiency, which ultimately creates greater opportunities for heightened levels of hospitality. The convenience and flexibility the platform delivers allows the staff to spend more time at their tables connecting and building relationships with our guests.
Director of Hospitality
Avery
The thing that was different about the Arryved POS is 100% the customer service! I have worked with 4-5 other point of sales systems and this is by far the best one regarding customer service.
Manager
Fire Maker Brewing Co.
With Arryved, we found that it's what is on the inside that counts. It's so intuitive, you could jump behind the bar here at Leaven and as long as you know how to pour a beer, it's the least of our worries.
The POS guest experience revolution has Arryved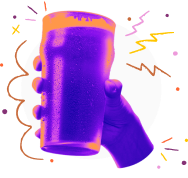 Find out why guests and staff alike rave about Arryved POS. Tell us a little about yourself and we'll be in touch shortly to set up a personalized demo!