Contactless Ordering
 Impress guests and reduce staff workloads with QR code menus, ordering, and payments
QR codes are proven to enhance the service experience, maximize staff efficiency, and boost tabs and tips.
FASTER SERVICE
QR codes take care of tedious administrative tasks so staff can focus on exceeding guest expectations.
SATISFY MORE GUESTS
Guests get the best of both worlds by interacting with staff and being empowered to take control of their tab.
INCREASE REVENUE
Better experiences pay off: Arryved's QR code tool, OpenTab, has proven to boost tabs by 37% and tips by 27%!
BE MORE PRODUCTIVE
QR codes let you service more guests without increasing your labor costs.
Staff save precious time by not running to each table with menus, bills, and receipts
Instead of boring order questions, staff can upsell, educate, and invite guests to upcoming events
Paperless ordering means your reporting dashboard updates in real time, all in one place
INSPIRE RETURN VISITS
Blending exceptional hospitality with smart technology makes for a memorable guest experience.
Flexible tools put ordering power right in guests' hands—they can order with a staff member or on their phone
Orders go straight from guests' fingers to the kitchen or bar, so delivery is faster
Guests are empowered to leave whenever they want by closing themselves out
BOOST YOUR BOTTOM LINE
Efficient service + better experiences = 37% higher tabs and 27% higher tips.
Streamlining the ordering process means guests add more to their tabs
Fast service and attentive staff result in higher tips
QR code menus make promoting events, merchandise, and other upsells easy
Product Comparison
Profit-friendly features, transparency on costs incurred, and an industry-savvy team committed to helping your business thrive are just a few of the reasons
Arryved is built with your team in mind.
| | Arryved | Square | Toast |
| --- | --- | --- | --- |
| Award-winning Customer Support | | | |
| To-The-Ounce & Hour-By-Hour Reporting | | | |
| Card On File | | | |
| QR Code Menus, Ordering & Payments | | | |
| Online Storefront | | | |
| Offline Mode With Optimistic Auth | | | |
| Built In Loyalty Program | | | |
| Donation & Round-Up Feature | | | |
| Timestamped Tip Pooling Tools | | | |
Fast, user-friendly technology
POS isn't a one-size-fits-all. Our suite of customizable products elevate staff and guest experiences with smart technology that manages transactions so you can focus on human connections.
Customer Seal of Approval
Grand Opening was insane…in the best way possible! Thank you so much to you and the entire team for being so supportive – we absolutely LOVE the partnership we have with you all. Give everyone on the team a high-five from us all!!
Daniel KauseCo-Owner, Dueling Ducks Brewing
Our Partners
Ekos
Eliminate manual processes and duplicate entries while gaining complete visibility into key metrics that grow your business.
Yellow Dog
Handle food and beverage inventory management seamlessly with software fully integrated with your POS system.
QuickBooks
Import daily sales into QuickBooks in order to cross-reference POS reporting with your bank deposits.
The POS guest experience revolution has Arryved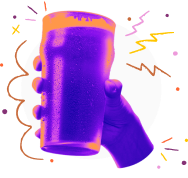 Find out why guests and staff alike rave about Arryved Mobile POS. Tell us a little about yourself and we'll be in touch shortly to set up a personalized demo!