Reduce Wait Times & Maximize Tips
Delight guests, increase staff efficiency, and fatten your bottom line with mobile POS solutions like QR code ordering, menu, and payments.
QR Code Ordering
QR code menus, ordering, and payments blend world-class hospitality with smart POS technology to create a superior service experience.
Guests order and pay with ease, right from their own smartphones
Customizable digital menus that dynamically update when your inventory changes
Guest tabs sync with staff devices, so no order is left behind
MOBILE ORDERING POS
The Arryved mobile point of sale app makes collecting payments a seamless experience for you and your guests.
Available to download for free in iOS and Android
Reduce ordering friction by allowing guests to start and pay tabs in the app
Mobile app tabs sync to all POS devices
ONLINE ORDERING
Diversify revenue streams and make digital ordering a cinch by hosting a free online storefront.
Guests place orders online for pickup, curbside, delivery, or shipping
All orders automatically sync to your POS devices and printers
Promote special releases and merch, in addition to your normal menu items
Meet Staff &
Guest Needs
Online Storefront
Keep guest convenience top of mind by offering your goods for sale online. It's easy to set up, free to host, and you can even implement pick up and delivery capabilities to cast a wider net of potential customers!
QR Code Ordering
With increased efficiency in both FOH and BOH, plus improved staff-guest interactions surrounding education and upselling, it's no surprise that QR code ordering has proven to enhance guest experiences.
Loyalty Program
Grow your community with an easy-to-use, customizable rewards program. Fully integrated with your POS, Arryved Insider gives you the flexibility and insights to build an engagement program catered to your brand.
Security
Your business, staff, and guests deserve the highest levels of data privacy protection. We promise to never trick you or sell your data, simply because it's the right thing to do.
No CC Rolodex
Make it easy for guests and painless for your hustling staff to keep tabs open. Safely and securely open tabs without holding onto physical cards, and say goodbye to that rolodex dinosaur.
Let's Chat.
Arryved streamlines your business operations so you can run things the way you've always wanted to. Let's discuss how we can meet your unique needs.
Get a Demo
Customer Seal of Approval
Grand Opening was insane…in the best way possible! Thank you so much to you and the entire team for being so supportive – we absolutely LOVE the partnership we have with you all. Give everyone on the team a high-five from us all!!
Daniel KauseCo-Owner, Dueling Ducks Brewing
WHY ARRYVED?
No Monthly Fees
Our transparent pricing model is designed for your success. Use every feature Arryved offers for zero monthly fees.
No Contracts
Continue our partnership only as long as you want to. We have a 99% customer retention rate, so we're confident we can support your needs.

Exceptional Support
Our support team serves you as well as you serve your guests. Get a hold of a real human via phone or email every day of the week.
The POS guest experience revolution has Arryved.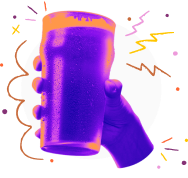 Find out why guests and staff alike rave about Arryved Mobile POS. Tell us a little about yourself and we'll be in touch shortly to set up a personalized demo!