BarTrack Integration
Beverage Inventory Management & Smart Draft System
BarTrack is a beverage inventory management and Smart Draft system that aims to 'pourfect' the quality of draft pours and automate tedious bar processes.
Benefits
Save Time With Synced Data
Together, Arryved and BarTrack deliver enhanced data that gives a wholistic view of business operations.
Maximize Taproom Revenue
BarTrack has a proven track record in reducing pour costs. That means more money in your wallet!
Improve Beverage Quality
Maintain a positive brand identity with tools that help you make consistently delicious beer.
Customer Seal of Approval
"If I were to suggest to a fellow brewery the business tools they should invest in, Arryved and BarTrack would be the two most major investments for front-of-house solutions. They are a game-changer when it comes to the success of the draft beer program and overall visibility into business operations."
Austin JohnOwner at Apocalypse Ale Works
Enhanced, Easy-To-Read Data
The BarTrack and Arryved systems work together to deliver digestible data that you can access in one place. That way, you stay informed about overall business operations and set yourself up for long-term growth.
Perfect Your Pours
Liquid is precious for beverage-focused businesses. BarTrack's easy-to-use tools help identify pour inconsistencies so you can reduce waste and serve the perfect pint to every guest.
Want your arryved pos to integrate?
We're proud to partner with BarTrack. Please contact the BarTrack support team and they'll get you set up.
The POS guest experience revolution has Arryved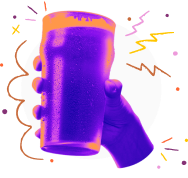 Find out why guests and staff alike rave about Arryved Mobile POS. Tell us a little about yourself and we'll be in touch shortly to set up a personalized demo!