Craftpeak Integration
Online Presence Solutions
Craftpeak
Craftpeak began with the intention of making web experiences as amazing and specialized as the products the craft beverage industry was producing. Through innovative online solutions, Craftpeak provides the tools, technology, and team to empower craft brands to succeed. Craftpeak seeks to change the way people buy, sell, and market craft brands by creating meaningful connections between those brands and their consumers and building world-class solutions to drive revenue, build brand loyalty, and stand out online.
Benefits
Reliability
Deliver Efficient and Reliable Customer Journeys from Cart to Checkout – Never upset a customer with incorrect webstore inventory.
Streamline Inventory
Streamline Inventory Management – One system syncs both taproom and ecommerce depletions.
Accuracy
Increase Inventory Accuracy and Preclude Overselling Across Channels – No more surprises with your stock-on-hand.

Customer Seal of Approval
"Craftpeak and Arryved make our jobs so much easier. I would definitely recommend the Inventory Sync to anyone using the platforms, it's literally a no-brainer."
Mike SemenecDSSOLVR
Online Beer Sales with Shipping, Pickup, and Local Delivery
Websites that showcase your products and tell your brand story. Craftpeak websites are fast, striking, mobile-friendly, easy to edit, and work well with social media integrations and other apps.
Membership Programs
Membership Programs that deepen the connection with your brand's most passionate supporters while driving customer loyalty and consistent sales.

BevFinder that connects customers with your product at every location through a clean, mobile-optimized experience.
Want your arryved pos to integrate?
We're proud to partner with Craftpeak. Please contact them directly if you're interested in their product!
You'll receive recorded one-on-one training sessions with Craftpeak experts and can identify your unique project's scope.

Want to be a partner?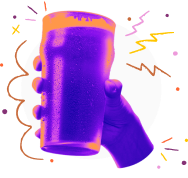 Reach out to us directly at [email protected] or fill out this form and we'll be in touch with you shortly!