EKOS Integration
Inventory & Production Management
Ekos is the leading business management platform powering — and empowering — craft beverage businesses. With more than 18,000 users on six continents, Ekos helps beer, wine, and cider makers drive efficiencies, power growth, streamline communication, and improve visibility across their businesses. By integrating with Arryved, users are able to create a centralized hub for all critical business information.
Benefits
Save Time
Save 2+ hours per week by eliminating manual reconciliation.
Automate
Automate taproom/tasting room and ecommerce inventory depletion, and journal entry creation.
Better Visibility
Gain better business visibility with real-time tracking of tax-paid inventory.
Customer Seal of Approval
"The integrations save us time and allow me to stay on top of the books. I don't have to wait until the end of the month to have an accurate view of my data. When your books are up to date, you can pull financial records that a bank needs for larger business expenses."
Patrick Lively Lively Beerworks
Automatic Inventory
The Ekos / Arryved integration automatically sends your end-of-business-day sales transactions from Arryved to Ekos. Ekos immediately depletes your packaged product and merchandise inventory so you can plan future production and accurately allocate inventory to your taproom or tasting room and your online store.
Sales data integration
Ekos also automatically posts the invoice for daily sales and a daily journal entry to maintain up-to-date Cost of Goods Sold, tips owed to your employees, taxes owed, discounts given in the taproom, payments received from customers, and refunds given during the day.
Want your arryved pos to integrate?
We're proud to partner with Ekos. Please contact them directly if you're interested in their product! You can check out the free product tour online and review Ekos' module-based pricing model. 

The POS guest experience revolution has Arryved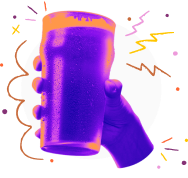 Find out why guests and staff alike rave about Arryved Mobile POS. Tell us a little about yourself and we'll be in touch shortly to set up a personalized demo!