Yellow Dog
Inventory Management
Yellow Dog
Yellow Dog Software offers a suite of inventory solutions to help taprooms manage their food & beverage and retail inventory operations so you can take back control of your inventory. Yellow Dog can account for everything sold – One solution with the core inventory workflows you'll need.
Faster Reporting
Rely on faster item creation and management, recipe costing, streamlined purchasing and receiving electronic vendor invoice processing, quick and accurate physical inventories, and analysis reporting.

Analytics
Understand the numbers to drive better business decisions – Improve your bottom line with reporting and analytics.
Automate
Sync with your Arryved POS to automate inventory management – Create retail items in Arryved and automatically sync sales information to manage inventory deductions.
SOME COMPANIES HAVE AN FAQ.
WE HAVE A JONATHAN.
…and a Kalin and an Adam and tens of other helpful support specialists. Hospitality is fast-paced, and when you need help, you need a human on the other line ASAP. Our daily initiatives are to solve your pain points and help your team maximize efficiency.
End to End Tracking
Yellow Dog can track to-go and at-location items all in the same transaction and deduct from your on-hand amounts almost instantly. You can set up a recipe to track your limited supply, sell by the single can, 4-pack, case or draft, Yellow Dog can track it all back to one on-hand and for special releases.
Inventory Management
Manage your large bottle inventory with ease. With a lot of money tied up, that's an asset that needs to be closely monitored with a very accurate on-hand. Yellow Dog can deduct these bottles as they are sold by the bottle, glass, case, or even 2oz sample on a flight board.
Want your arryved pos to integrate?
We're proud to partner with Yellow Dog. Please contact them directly if you're interested in their product!
You can get free training on implementing the system, and free support as a Yellow Dog customer.

The POS guest experience revolution has Arryved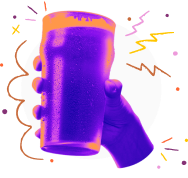 Find out why guests and staff alike rave about Arryved Mobile POS. Tell us a little about yourself and we'll be in touch shortly to set up a personalized demo!