Mobile App
Seamlessly collect payments with touch-free tab management
Guests open a tab on their phone, order with your staff, and close out whenever they're ready to leave—no credit card or device swapping needed.
No Monthly Fees
Our transparent pricing model is designed for your success. Use every feature Arryved offers for zero monthly fees.
No Contracts
Continue our partnership only as long as you want to. We have a 99% customer retention rate, so we're confident we can support your needs.

Exceptional Support
Our support team serves you as well as you serve your guests. Get a hold of a real human via phone or email every day of the week.
Simple Setup
Setup your business on the Arryved mobile app in a matter of minutes!
Create a branded look by uploading a logo and an image
Free and easy to download for guests
Available on both iOS and Android devices
Increase Guest Satisfaction
An easy-to-use app that streamlines the ordering process makes for happy guests that can't wait to come back!
Expedited service for both staff and guests
Payments are routed through the app, so no need to credit card swap
Guests pay and tip as soon as they're ready to leave
Diversify Revenue Streams
Make for a modern service experience by tapping into savvy tech.
Capture a new audience with your listing in the Arryved Mobile marketplace
Allow guests to order for to-go, pickup, and delivery
Product Comparison
Free features, transparency on costs incurred, and an industry-savvy team committed to helping your business thrive are just a few of the reasons Arryved is simply built better.
Our 99% retention rate proves it!
| | Arryved | Square | Toast |
| --- | --- | --- | --- |
| Free, Unlimited Customer Support | | | |
| Free Loyalty Program | | | |
| Free Online Storefront | | | |
| No One Pays Monthly Hardware Fees | | | |
| No One Pays Onboarding & Training | | | |
| Free Reporting Tools | | | |
| Card On File | | | |
| Innovative & Unique Offline Mode | | | |
| Free QR Code Ordering | | | |
| Donation Feature | | | |
| Tip Pooling Tools | | | |
| No Contracts, Ever | | | |
Fast, user-friendly technology
POS isn't a one-size-fits-all. Our suite of customizable products elevate staff and guest experiences with smart technology that manages transactions so you can focus on human connections.
Customer Seal of Approval
Grand Opening was insane…in the best way possible! Thank you so much to you and the entire team for being so supportive – we absolutely LOVE the partnership we have with you all. Give everyone on the team a high-five from us all!!
Daniel KauseCo-Owner, Dueling Ducks Brewing
Our Partners
Ekos
Eliminate manual processes and duplicate entries while gaining complete visibility into key metrics that grow your business.
Yellow Dog
Handle food and beverage inventory management seamlessly with software fully integrated with your POS system.
QuickBooks
Import daily sales into QuickBooks in order to cross-reference POS reporting with your bank deposits.
The POS guest experience revolution has Arryved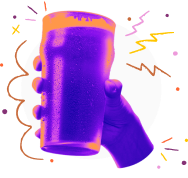 Find out why guests and staff alike rave about Arryved Mobile POS. Tell us a little about yourself and we'll be in touch shortly to set up a personalized demo!