Service That Highlights Your Craft
Drive contagious loyalty with your guests and staff with a POS system that helps run your craft beverage business better.
POS Built for Craft Beverage
World-Class Hospitality
Flex between service models to best serve both staff and guests on any given day using a flexible, mobile point of sale system.
Accessible Reporting
Clear, actionable insights to better understand your craft beverage business with a web-based portal you can access from anywhere.
Easy Beverage Tracking
Track liquid sales from keg, bottle, or serving tank by the ounce from your point of sale software to ensure accurate forecasting.
Customer Seal of Approval
Grand Opening was insane…in the best way possible! Thank you so much to you and the entire team for being so supportive – we absolutely LOVE the partnership we have with you all. Give everyone on the team a high-five from us all!!
Daniel KauseCo-Owner, Dueling Ducks Brewing
Unbeatable Staff & Guest Experiences
Turn first-time visitors into loyal craft beverage enthusiasts with smart POS technology that enhances staff-guest interactions.
Start tabs and keep them open safely and securely without holding onto a physical card
Staff serves any guest, anywhere with real-time tab and inventory syncing
Integrate scalable food service options, from a partial to a full kitchen
Adjust service models as necessary with mobile and flexible POS hardware options
Refined Business Operations
A scalable, personalized sales dashboard takes care of backend reporting so your team can continue shining in the taproom.
Record tasters, samples, and flights with customizable sizing and flights tools
Get insights to customer habits and your most loyal guests with an integrated POS rewards program
Access real-time reports from anywhere in a web-based portal
Maintain an accessible ledger for keg and event deposits with easy returns
POS Products Tailored for Your Fermented Flavor of Choice
Increase staff morale and keep thirsty guests coming back for more with an all-in-one POS that streamlines data collection and lets you focus on the tasting room or taproom experience.
Mobile POS System
Provide exceptional service with POS software that frees staff up to meet guests needs anywhere in your dynamic craft beverage space.
Reporting
Discover what makes your craft beverage business tick with a comprehensive sales dashboard that identifies opportunities for growth.
Loyalty
Easily communicate with existing members and encourage new craft loyalists with a customizable program and point redemption system.
Mobile App
Streamline the checkout process for staff by putting the power in guests' hands with the Arryved Point of Sale mobile app.
Online Ordering
Diversify revenue streams with a free and easy-to-setup online ordering platform that integrates inventory with your POS.
Contactless Ordering
Lean on smart technology via QR codes to see increased staff efficiency, enhanced guest experiences, and larger tab and tip sizes.
SOME COMPANIES HAVE AN FAQ.
WE HAVE A JONATHAN.
…and a Kalin and an Adam and tens of other helpful support specialists. Hospitality is fast-paced, and when you need help, you need a human on the other line ASAP. Our daily initiatives are to solve your pain points and help your team maximize efficiency.
MORE ABOUT 7 DAYS/WEEK SUPPORT
We Chose Arryved
Since our July 2016 launch with Arryved we have gained immeasurable progress in service efficiency, which ultimately creates greater opportunities for heightened levels of hospitality. The convenience and flexibility the platform delivers allows the staff to spend more time at their tables connecting and building relationships with our guests.
Director of Hospitality
Avery Brewing Co. & Restaurant
The thing that was different about the Arryved POS is 100% the customer service! I have worked with 4-5 other point of sales systems and this is by far the best one regarding customer service.
Taproom Manager
Fire Maker Brewing Company
With Arryved, we found that it's what is on the inside that counts. It's so intuitive, you could jump behind the bar here at Leaven and as long as you know how to pour a beer, it's the least of our worries.
Owner
Leaven Brewing Company
The POS guest experience revolution has Arryved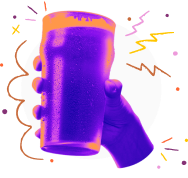 Find out why guests and staff alike rave about Arryved POS. Tell us a little about yourself and we'll be in touch shortly to set up a personalized demo!